The Like Hearts Lab Vision
Like Hearts Lab is a co-working, catalyzing, incubating, inspiring, B2B, B2C, retail community and gathering place for impact founders, non-profit leaders, board members, small business owners, artists, writers, technologists, entrepreneurs, musicians, community organizers, activists, educators, government movers and shakers, corporate social responsibility (CSR) and sustainability executives who prioritize positive social impact as a core value. Our goal is to amplify the positive contributions YOU are making in the world by bringing together groups of people who don't typically share space.
Like Hearts Lab is currently searching for a home in rural Colorado and will be built out in phases, culminating in a collection of experiences that encourages socially-conscious visitors to spend the day and eventually stay overnight. Its future home will depend on affordability of real estate, availability of fast internet service, visionary community leadership, local economic incentives, and proximity to recreational activities and a Colorado Creative District. LHL will ideally exist as a public-private partnership.
It will be an inclusive, accessible property welcoming and encouraging all to be and become their best selves.
Shipping containers or other modular structures will be converted into wheelchair-accessible tree houses and sprinkled throughout the land, serving as play/learn/create spaces and experimental retail labs for socially-conscious companies. A central hub space will serve as the welcome center and house a commercial kitchen, as well as classrooms for retreats.
When it's socially safe to do so, Like Hearts Lab will host onsite events.
LHL plans to be a Certified B Corporation and potentially employee-owned down the road.
We're currently seeking visionary collaborators and partners to help bring this moonshot public/private partnership to fruition in rural Colorado. Are you a forward-thinking town administrator, economic development leader, town council member, real estate developer, impact founder/investor, or someone who'd like to rent space at this kind of place? We'd love to hear from you.
The Experience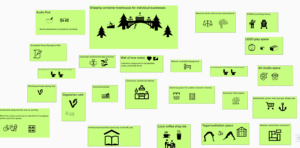 More About the Vision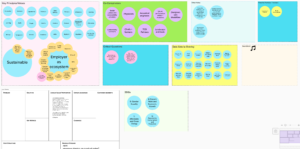 Critical Questions

How might we engineer a human ripple effect of joy and inspiration?
How might we curate experiences that integrate all the senses and send people out the door feeling energized and excited to contribute their best selves to the world?
How might we create a place that encourages people to sparkle?
How might we create opportunities for "serendipitous collisions?"
How might we design for resilience, wonder, and curiosity?
How might we build an open-source operating model with equity, accessibility, and inclusion at its core that can scale to other business and industries?
How might we first create this experience in the Metaverse?