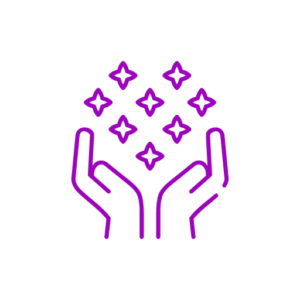 Like Hearts Lab will be designed with accessibility, sustainability, resilience, regenerative practices, and diversity, equity, and inclusion at its core.
LHL will recruit a diverse group of board and advisory members, employees, building partners, and entrepreneurs/artists in residence, and will prioritize creating a safe space for everyone's voices and lived experiences to be shared and respected. Like Hearts Lab will develop a shared governance model to support this, and will prioritize hiring BIPOC consultancies to help define this model.
With an emphasis on creating a campus that is sensitive to the future possibility of pandemics, spaces will be designed thoughtfully and intentionally. Shared and communal areas will be designed to maximize air flow, and make use of anti-microbial and no-touch surfaces, where relevant, with appropriate distancing and flow.
Regarding accessibility, spaces will be designed with physical and emotional requirements in mind.
Additionally, Like Hearts Lab will reserve a portion of its workspaces for entrepreneurs on a sliding scale fee structure and will incorporate open hiring practices. LHL will operate under an employee ownership model and will strive towards creating generational wealth for those employees.
Organizational Benefits/Practices
Employer as ecosystem
Living wages
Medical, dental, life insurance
PTO
401K
Professional development
Paid apprenticeships
Housing allowance/assistance
Mental health support
Public transportation allowance
Childcare allowance
Legal assistance
Employee ownership
Key Values/Principles
Equitable
Accessible
Diverse + Inclusive
Regenerative
Community-centered
Intentional
Transparent
Learning
Data privacy
Immersive
Joyful
Playful
Creative
Modular
Mindful
Artful
Resilient
Inspiring
Experimental
Recycled, vegan + local build materials/products wherever possible
Relevant SDGs (United Nations' Sustainable Development Goals)