Like Hearts Lab will be built out in phases.
Phase 0: a small, curated 1/2 day gathering of impact founders, non-profit leaders, board members,  small business owners, artists, writers, technologists, entrepreneurs, musicians, community organizers, activists, corporate social responsibility (CSR) and sustainability executives who prioritize positive social impact as a core value
Goal: continue to refine the story of the value proposition of an impact-focused community

Phase 0a: create a social impact fund to write small checks to rural Colorado BIPOC, women, and LGBTQ+ founders and small business owners through my existing company, Thought Distillery

Goal: demonstrate that impact can be amplified, invest in community, fund pilot projects in the impact space, create a new community unified by this portfolio, provide capital to overlooked and underfunded founders/biz owners
Phase 0b: design and host a two-week mini-sabbatical/retreat experience for the people above
Goal: test whether my target market is willing to invest in this kind of experience, create tangible results for a curated group that can advance the story of catalyzing and amplifying impact, all while minimizing total investment using existing local tourism infrastructure and services.
Phase 1: build an ADU on founder, Becca Williams', property to create a rotating short-term fellowship for the people mentioned above: a recharge space for a mini-sabbatical
Goal: collect data around needs of impact founders in order to shape the future experience
Phase 2: lease or purchase a small lot in the town of Buena Vista to house five shipping containers that will serve as a mix of short and long-term rentals, create and work space, a podcast studio, and a retail pop-up for sustainability and other impact-focused entrepreneurs. The short-term rentals could subsidize part of the long-term rent. In addition, we could create a partnership and pipeline to help individuals formerly involved in the justice system to re-enter society through a fellowship/employment rotation program. This individual could potentially be hired as operations manager of the short-term rentals, retail space, art studio, and podcast studio.
Goal: provide an accessible housing solution, meaningful employment opportunity, and path for sustainable re-entry for individuals formerly involved in the justice system, and gather data on which/how many of the millions of annual visitors to Chaffee County identify as socially-conscious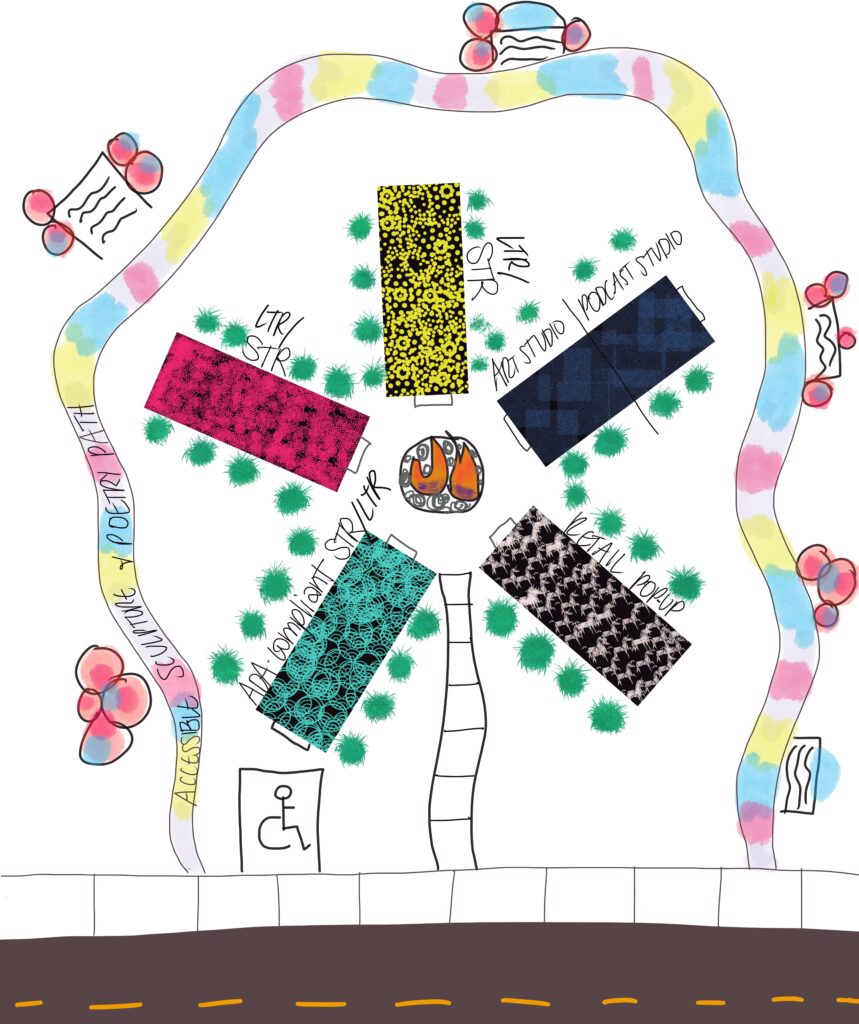 Phase 3: create a campus in existing, but currently underutilized commercial space in town
Goal: continue to test the concept, create a "catalytic community"
Phase 4: relocate to accommodate growth on significant acreage
Goal: maximize potential impact of community